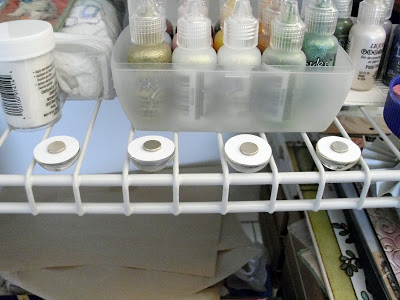 My bubble magnets set aside to dry…
This could be my shortest post ever! The other day I shared a picture of the bubble magnets I was working on, and mentioned how I dry them. When I need the adhesive (that attaches the magnet to the acrylic cabochon) to dry, I place each piece on my wire wall shelves (magnet side up), making sure to separate them a bit so they don't attract each other and snap together as magnets tend to do.
I swear – trying to pull these super-strong magnets apart without ruining the artwork is the worst thing. Next. To. Impossible. Kim, from Stay Joyful, commented that she had also experienced – in her words – having "a couple go 'down' in the line of duty too!" and suggested wire drying racks as another option.
Here's a picture so you have a visual of what I was describing. Hope this tip helps those of you who make these types of magnets!
~Laura