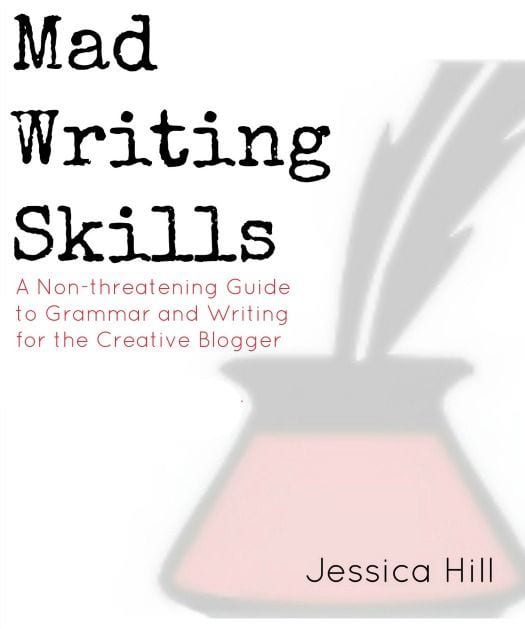 Jessica Hill, of Mad in Crafts, wanted a resource written specifically for creative bloggers that provided those skills without sounding like a dusty old textbook. Mad Writing Skills is a light-hearted look at the basics of blog writing, complete with worksheets and practical tips.  This ebook is designed for new bloggers who want to discover their own writing style, experienced bloggers who want to get back to good, clean writing, and bloggers who seek to improve their blog's professionalism.
I jumped at the chance to read and review this ebook, because I can be a real stickler for bad grammar and typos. I wrote my own article on editing and proofreading last year. It was lengthy because it was also my way of releasing some of my own frustration at seeing talented bloggers making silly writing errors. When I heard that Jessica had taken her Mad Writing Skills series and turned it into an ebook, I felt this would quite possibly be the guide that would help so many of us. Yes, I'm guilty of errors too, even though I can't stand them. In fact, when I first posted my proofreading article last year, a reader quickly found a typo. A silly one. I'm not kidding!
Jessica writes, in the beginning of her ebook,
By nature, creative bloggers are improvers. We are, after all, the people who see beauty in the curbside find and function at the salvage yard. We are always seeking out ways to improve our blogs for the sake of our readers, for financial gain, and for personal satisfaction. We read the boring manuals of our fancy cameras and sift through the endless advice given to improve SEO. With all the polishing and enhancing, revamping and updating, I think we forget to work on one of the most basic elements of our blogs: the writing.
She goes on to say,
I can't promise that proper use of a semi-colon will instantly garner you thousands of pageviews, but good, clean writing will make a positive impression on readers and sponsors. So if you are looking to "upcycle" your writing skills, read on. I t will be painless, I promise!
My translation of the above for you? Jessica gets it. She's a creative blogger herself. She has friends who are crafty bloggers and understands that refinishing an old chair is much more fun to do than editing a blog post. Because she comes at this subject from that perspective is what makes this ebook a painless (to use her word!) experience.
Mad Writing Skills is split into four sections: Lessons, Reader Questions, Worksheets, Tear Sheets. The book is 45 pages in length. The way the book is organized is a nod to Jessica's background: she once taught high school English. Uh-huh. She knows of what she writes! (Oh she better not be grading my post here!)The very first "lesson" is How to Write an A+ Tutorial. And I give that first lesson an A+ for getting right down to business. Jessica knows that creative bloggers are just that: creative. And she knows we like to be organized. Starting with the first lesson, she guides the reader to begin thinking of each blog post in an organized way.Jessica covers all of the essentials for good writing from common spelling errors to proper use of then versus than, and who's versus whose. She includes a few of my own pet peeves like affect versus effect, and loose versus lose. Not sure why those two bother me, but they do. As I type this, my brows are furrowing just thinking about how those two examples in particular drive me nuts. Let me pause here for a minute. The quicker I get my brows unfurrowed, the better chance I have of not adding to the nasty wrinkle that is determined to show itself above my nose.Where was I?
Oh yes. The book got a bit scary when I got to the section discussing the proper use of ellipsis points. This section starts off with:
We've all got one: that perky friend or co-worker who punctuates her emails using nothing but ellipsis points.
"So… I was wondering… do you think that you could pick up my kids from soccer…. They will be done
around 5… And then you could take them to McDonald's…or Wendy's…K…Thanks"
OH MY GAWD! JESSICA IS TALKING ABOUT ME!
Deep cleansing breath.
Guilty as charged.
I have to get better about my ellipsis use, which is one of many ways I write casually like I'm talking with you here. And that leads to another helpful section on "text speak" where Jessica reminds us that while helpful to create our own writing style and voice, we might not want to fill up our posts with a bunch of LOLs and abbreviated words. I agree with her. It's one thing to have your own writing style. It is purely another to write in abbreviated characters that I then have to look up what they mean while feeling not as hip as you are.
The Worksheets – they are the icing on the proverbial cake. The proofreading checklist worksheet truly streamlines your editing and proofreading process. The other worksheets include exercises and things to ponder such as the demographics of your blog readership, and the attributes of your favorite bloggers.
When I got to the section Transitional Words and Phrases, I think I actually heard a chorus of angels sing, while my laptop screen got brighter. I hit the motherload. Translation? I really needed that section!
There's so much more contained in this ebook, but you'll have to purchase it to learn all of the practical (and easy to remember) tips to improve your writing and to become better organized with your blog planning.
Yes, all this for only $5! Definitely worth it, especially if you don't like to deal with editing and proofreading. This ebook makes it a lot more fun with a lot less drudgery. And I think we can all agree that we can't stand drudgery. (The
50 Writer's Block Busting Blog Prompts
are so helpful. Remember
when I wrote about my blogging rut
back in February? I definitely could have used Jessica's prompts!)
Happy Spring everyone!
~Laura
Disclosure: I was provided with a copy of Mad Writing Skills to read and review. All opinions about this book are most definitely my own! I found this book to be so helpful that I have signed on to be an affiliate, and by clicking above you may be using my affiliate link. Just wanted you to know!