With Memorial Day weekend fast approaching, I was inspired this week to tea stain small American flags. I was putting together a round-up of beautiful patriotic Americana-style DIYs for Deja Vue Designs where I'm a contributor, and one of the projects was a pretty set of tea-stained flags by Kelly from A Soulful Home, one of my favorite DIY and design blogs to read regularly. (Click over to Kelly's blog and poke around – you'll be happy you did!)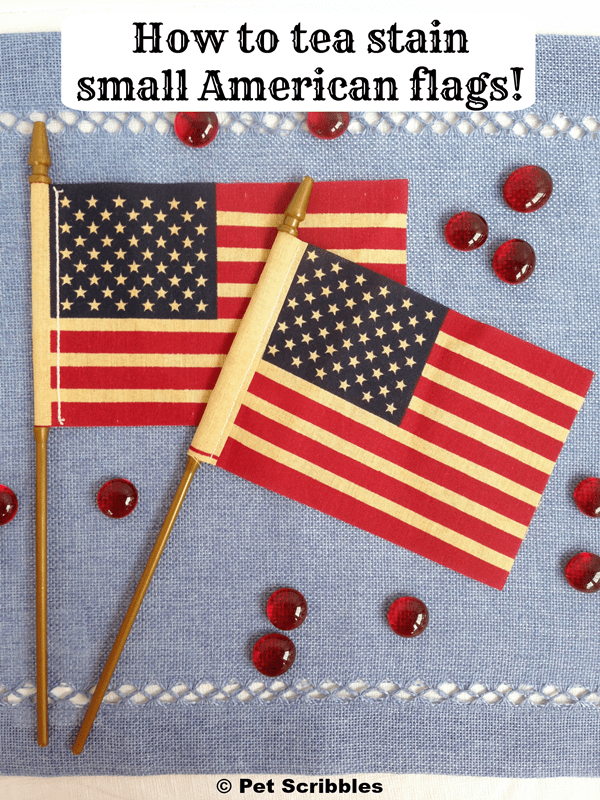 This wasn't my first foray into tea staining, as one of my first craft tutorials I shared here was for my Dryer Sheet Flowers. (Hard to believe that was almost three years ago already!)
I used small American flags for this tea staining project. These small flags are sold all over the place this time of year. I've seen them at grocery stores, drug stores and dollar stores too.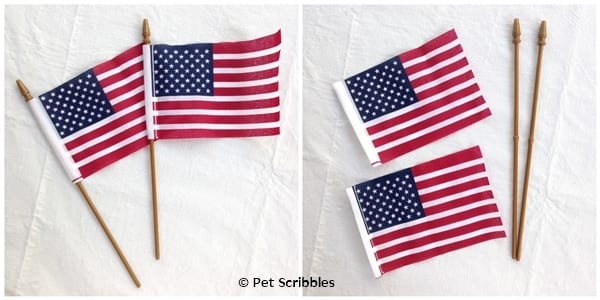 How to tea stain small American flags!
Make sure your flags are cotton – a helpful tip from Kelly – as nylon won't take the tea stain at all.
Directions: In a large mug or medium-sized bowl, brew two teabags of black tea. Let the bags sit for at least 5 minutes before removing them. My flags were easily removable from their poles, so I simply dunked them into the tea bath and place a metal fork over them to keep all parts of the flags underneath the liquid. I left the flags in for about 10 minutes, then removed them with the fork and placed them on paper towels to dry.

You can see below how the flags are tea stained, but not too much. The tea staining is just enough to give the flags an older, vintage style, which fits in nicely with the Americana decorating trend.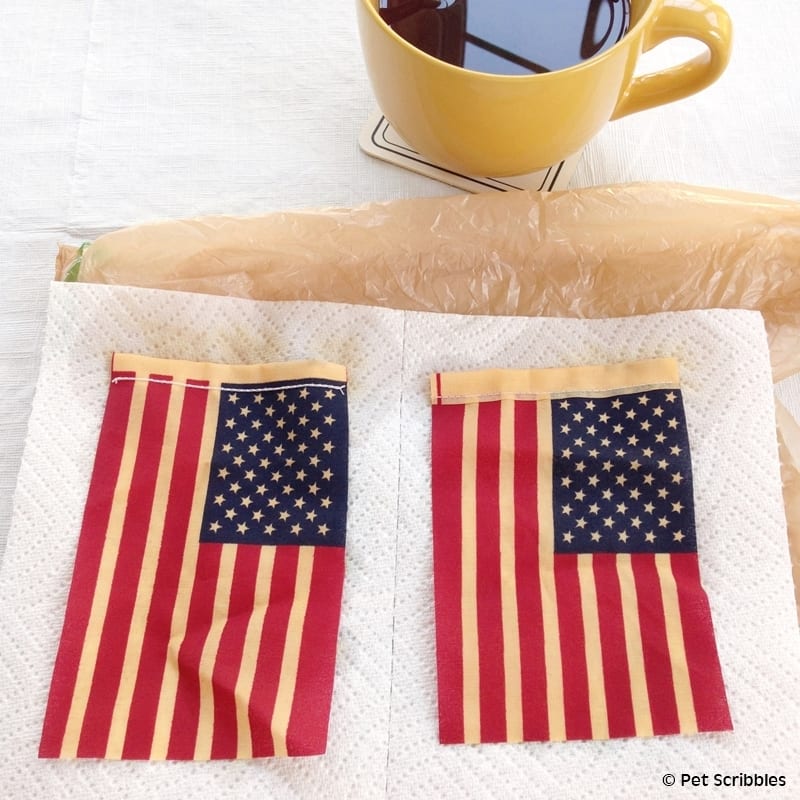 After they flags were dry, I put them between some clean paper towels and stacked a few books on top of them to get out the wrinkles. (This seems quicker to me than ironing, which I admit I have a complete aversion to… unless the ironing has to do with crafting!)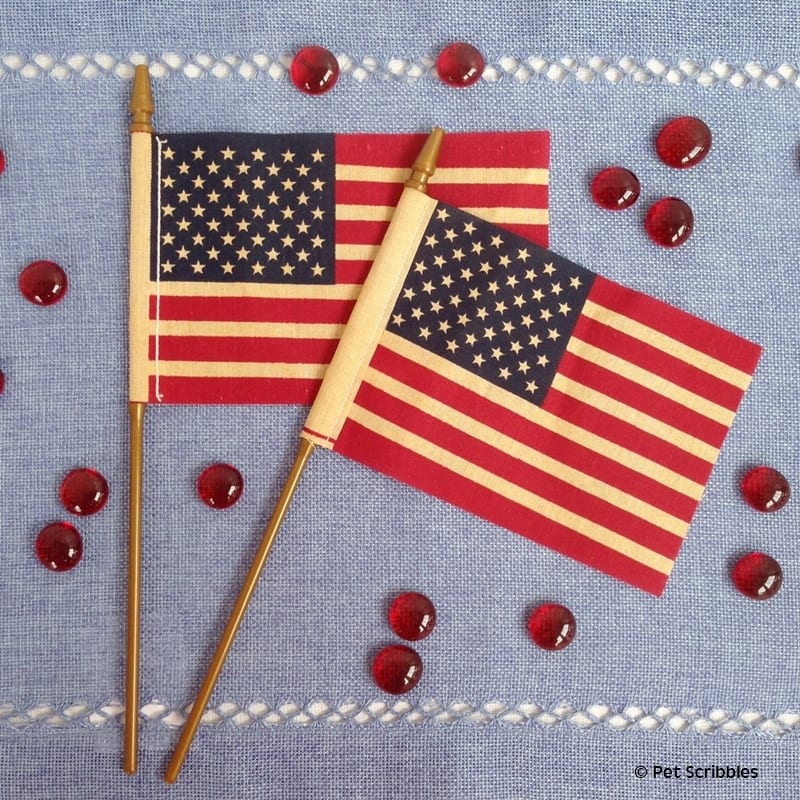 After I took the photo above, I decided to pour the red glass marbles into a small jar to use as the base for my little flag displays. (These jars were left over from a German mustard we get sometimes. Aren't they cute?)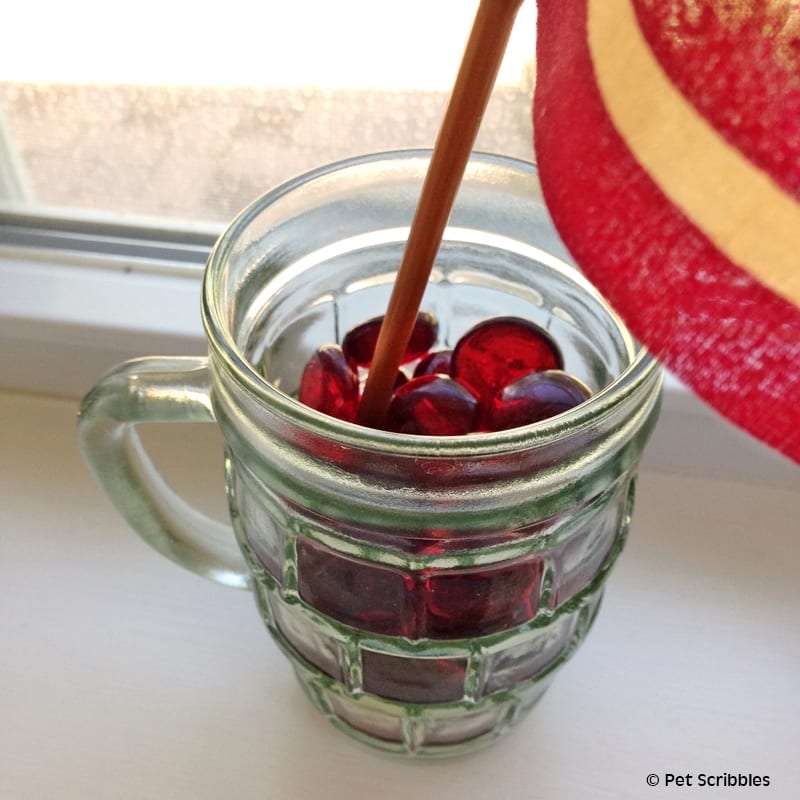 I love how simple a DIY this is, yet how much better the small flags look with a bit of aging. You know me: I love anything with a vintage vibe to it. If this isn't your particular cup of tea (pun intended), please enjoy your flags in all their red, white and blue glory!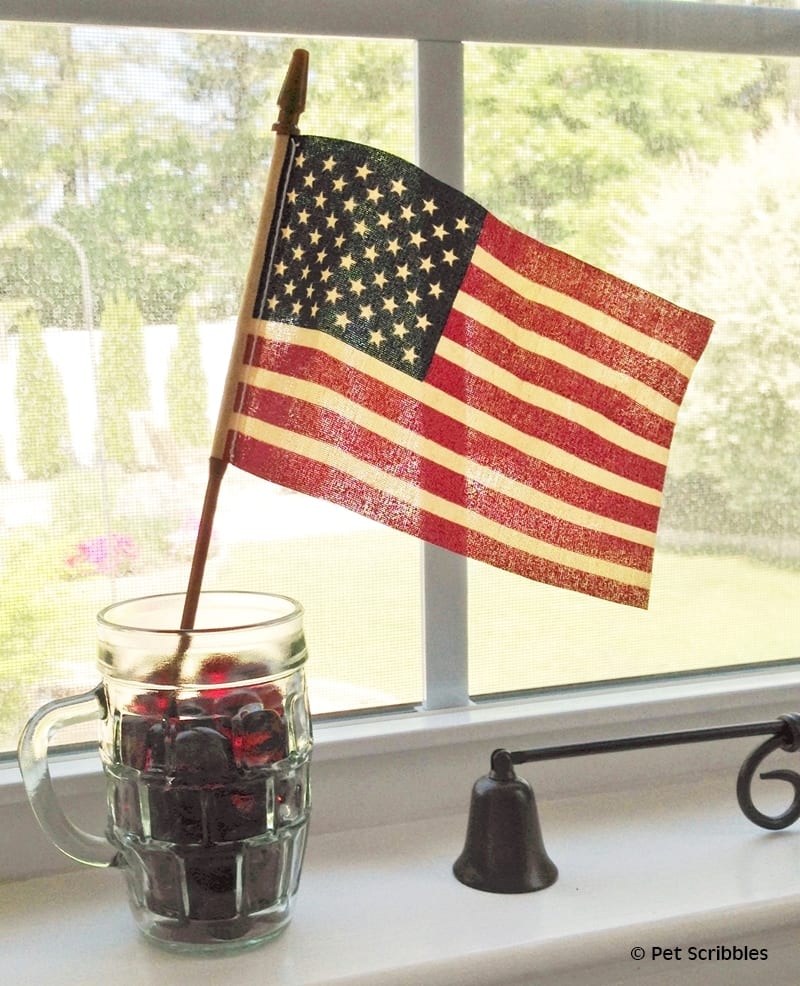 Here's a comparison shot for you. On the left you can see how the white stripes in the American flag match the white background. On the right, you can see the different in color.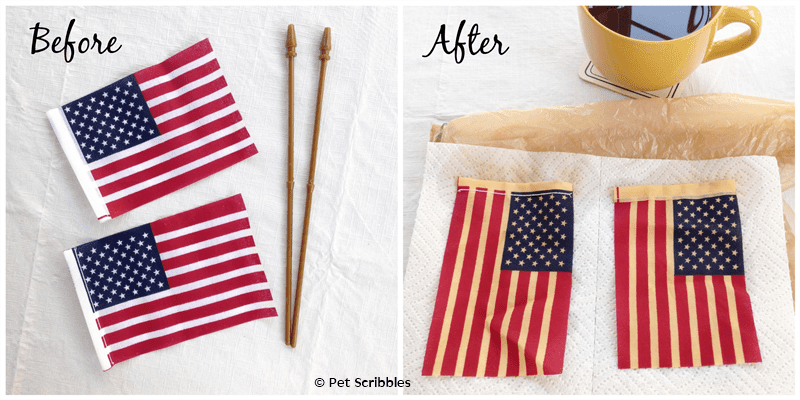 As usual, now that I've tea stained two small American flags, I want to stain many more. I can see displaying them with wooden spools as the base to hold them. Wouldn't that be cute? Hmmm… could be another future project idea!
Happy crafting!
~Laura