Welcome to another edition of Do You Ear What I Ear?, where I share my handmade earrings addiction with you. Each month I put together a collection of gorgeous earrings found on Etsy. If money were no object, I would purchase every single pair of earrings that I "heart" on Etsy. But alas, even though I don't treat money as an object, it apparently is an object, therefore I cannot purchase all of the handmade earrings that I covet.
But I digress.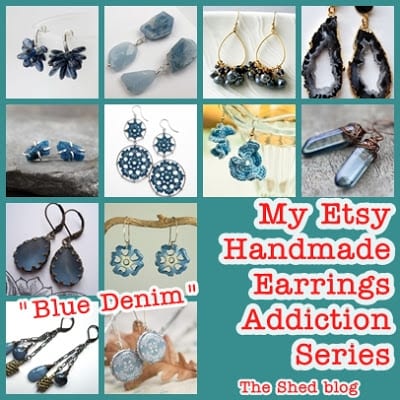 This month's theme? Blue denim! No, not earrings made out of denim, instead each of these earring designs features a soothing shade that reminds me of blue denim, such as the stunning pair of earrings by Doolittle Jewelry, above.
Let's continue . . .
These blue denim earrings are just a highlight of what each artist creates. Click on the links beneath each of the images to learn more about the featured earrings and to see each artist's complete collection.
Still want to see more handmade earrings?  Click on the links below for the previous editions of Do You Ear What I Ear?
Leather Earrings
Copper Earrings
Spring Earrings
Enjoy!
~Laura