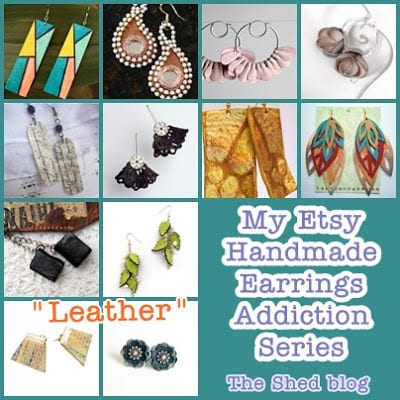 Welcome to my 3rd edition of Do You Ear What I Ear? – where I obsess over share my favorite handmade earrings from the many talented artists on Etsy.
This month's theme?  Leather!
I love earrings. Especially handmade earrings. Always have. And leather earrings are no exception!
Whether the leather is hand-cut, laser-cut, painted or dyed, you can find just about any style and color of leather earrings imaginable on Etsy.
The leather earrings featured in this post represent just a fraction of the intricate designs available.
Since I can't purchase every single pair that I adore, I am sharing them here with you, dear readers.
If you purchase any of these earrings, I will be over the moon for you. 

And a bit jealous too. 
But in a good way!
Think of me not as an earrings-addicted girl . . .
. . . but rather as your go-to guide for amazing handmade earrings on Etsy.
And the best part about all of these earrings? They are handmade. Nothing mass-produced here!

Want to see more earrings?
Check out the previous editions of Do You Ear What I Ear? 
~Laura