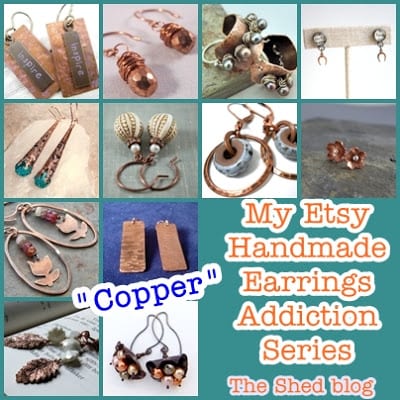 Welcome to the 2nd edition of
Do You Ear What I Ear?
Where I share my addiction to handmade earrings, specifically those I
drool over
come across on Etsy.
This month's theme? Copper!
Copper is so very beautiful not only for the Summer months, but year-round. 
And Copper looks lovely on just about every skin tone there is.
I love earrings. Especially handmade earrings. Always have. And Copper earrings are no exception!
And being on Etsy, I 
covet
want
 see a lot of gorgeous Copper earring designs.
I favorite them, and I heart them. And I may or may not obsess about them. (Part of conquering an addiction is admitting you have one. But I don't know that I want to be cured of this addiction, quite frankly!)
Since I can't purchase every single pair that I adore, I am sharing them here with you, dear readers.
If you purchase any of these earrings, I will be over the moon for you.
And a bit jealous too.
But in a good way.
Think of me not as an earrings-addicted girl . . .
. . . but rather as your go-to guide for amazing handmade earrings on Etsy.
Want to see more earrings?
Check out my April edition of 
Do You Ear What I Ear?
 featuring earrings perfect for Spring 
here
.
What are some of your drool-worthy favorite categories on Etsy?
~Laura
PS — two mentions of drool in this post… not sure what that means…