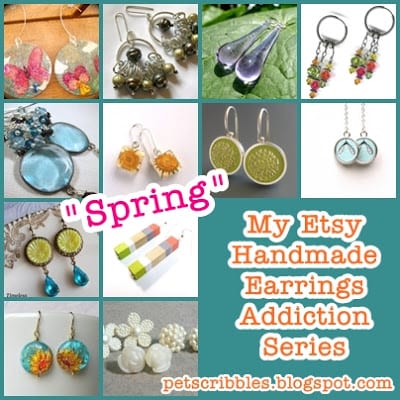 I love earrings. Especially handmade earrings. Always have.
And being a seller (and shopper!) on Etsy, I see lots of earrings.
I favorite them, and I heart them, and I covet them.
And since I can't purchase every pair that I love, I will share these earrings with you, dear readers. And I hope to do this on a regular basis too, perhaps monthly.
If you purchase any of these earrings, you will be giving them a good home, and that will make me very happy!
And a bit jealous.
But overall I promise to be happy for you!
Want to see more of my favorites?
You can follow me on Pinterest, and see my Handmade Earrings on Etsy board here.
And you can see more of my Etsy Favorites by clicking here. You can add me to your Etsy Circle so that you can see all of my "future" favorites too.
Do you have a handmade or vintage "almost addiction" like I do with earrings? Let me know in the comments!
~Laura