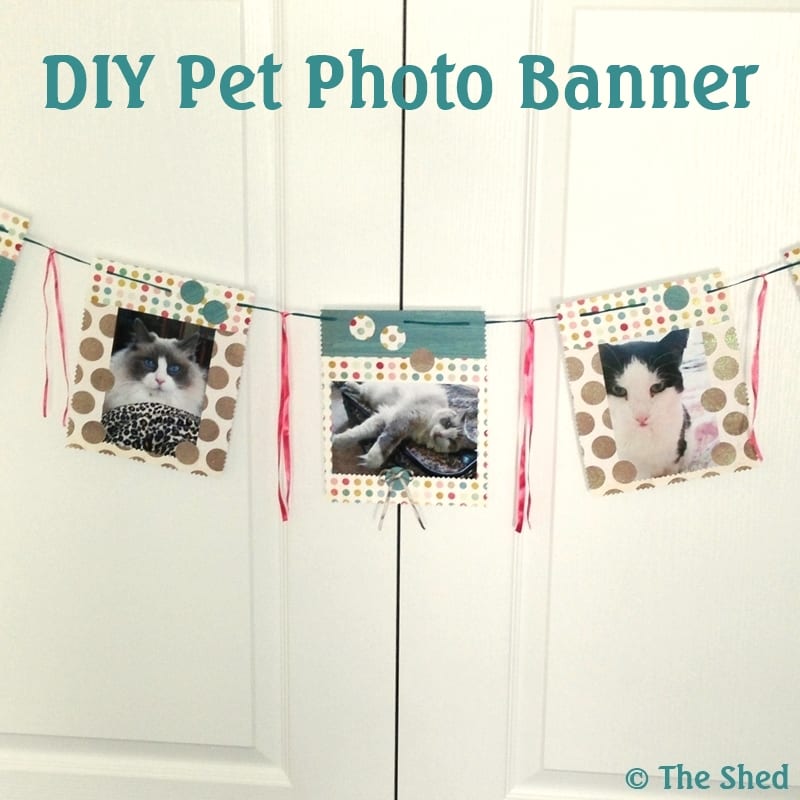 I'm not that old, but I feel that way sometimes when I fondly remember "those days" of having your pictures printed. I used to take tons of pictures on vacations, of my cats (naturally!), of special get-togethers with friends, you name it. I have many packages of pictures and used to display special shots in frames.
But somewhere along the way – hello, digital photos? – I stopped printing pictures. It was too easy to just store the images on my computer or my iPhone. I'll get around to printing out those special images, I told myself…way too often. It just didn't happen, or if I needed to print a photo I'd just use my home photo printer.
Enter Shutterfly with a challenge! Using printed photos – yes, actual images printed professionally – come up with a creative way to display them. Printed photos. It felt so old-school to me, yet felt wonderful at the same time. I knew right away that I would create something with photos of our cats.
I used to have lots of framed pictures of our cats, but as the years went by, and the photos weren't updated, the frames just found their way into a drawer. As you might remember if you're a regular reader, we lost our sweet boy cat Matisse a few years ago. I still don't have a picture of him anywhere displayed in our home. Well, that was about to change!
Matisse, aka Mr. Boober, was our sweet boy kitty. Here he is on my luggage, begging me not to leave. 
I used to order from Shutterfly years ago, when I purchased my very first digital camera. The camera was a cool shade of blue. That's why I bought it. I knew nothing about megapixels and such – I just liked the color! Shutterfly offered me complimentary prints for this challenge, and not only was the ordering process even more streamlined than I remembered it being, but the prints arrived to my door very quickly. And the prints? Gorgeous! Crisp, clear, glossy, lovely images. In my hands.
And what did I create?
A DIY Pet Photo Banner!
I decided to make each banner panel 7 inches by 7 inches square, so that I could easily have the option of displaying my 4 x 6 photos either horizontally or vertically.
After adding a coordinated paper on top of each piece as a border, I trimmed three sides of each square with pinking shears.
I trimmed the bottom of each photo with the pinking shears, to match the papers, and attached them to the papers with an adhesive tape runner.
Using a 1-inch hole punch, I made lots of circles with the extra paper scraps to use as embellishments on the photos.
Some of the circles I used as if they were photo corners, and others I used strictly as decoration. The circles were adhered with mini glue dots.
Teal-colored raffia ribbon was strung through tiny holes that I punched into the top of each border, and coral-colored satin ribbons were knotted in between each image. I used a thin grey satin ribbon on the center panel.
The wonderful mix of textures in this photo banner is hard to fully appreciate in these pictures, but there is raffia ribbon mixed with the smooth satin ribbons, plus heavy scrapbook papers that are glittered in parts of the designs. The papers are matte while I purposely chose glossy photos.
I love having these photos displayed. Matisse – aka Mr. Boober – was such an important part of our little furry family, and when he passed away both of the girl kitties spent quite some time grieving.
Because Matisse was the glue that kept Lulu and Aliza happy, I gave his photo the most prominent spot in the middle. On each side are Lulu (left) and Aliza (right).
The photos on each end are both older ones of Matisse and Lulu, brother and sister.
Working on this project, and seeing the pretty result, has reminded me of the beauty of real photographs. And the stunning clarity of the photos will have me ordering more prints from Shutterfly soon.
How about you? Do you treat yourself to professionally printed photos for your special images?
~Laura
Looksi and Shutterfly have invited me to participate in a creative brand collaboration.  I have been provided with product compensation for this post, but all opinions are most definitely my own!