Yesterday was a gorgeous Fall day, and after cleaning up from our weekend Oktoberfest party, I decided to finish my Fall decorating. I needed a few things to complete my Halloween-themed mantel, and decided that I wanted some fun candle holders to balance everything out. I decided to check out
Walgreens
for Halloween ideas.
Walgreens has a new Loyalty Card program called Balance Rewards. By signing up for this card, participants receive Walgreens Savings and also earn points towards Walgreens Rewards. I'm lucky to have a Walgreens just a few minutes drive from our home. Being that I wanted to go to Walgreens to check out their Halloween decor items, I decided to save time and just sign up for the Balance Rewards program using the Walgreens app on my iPhone.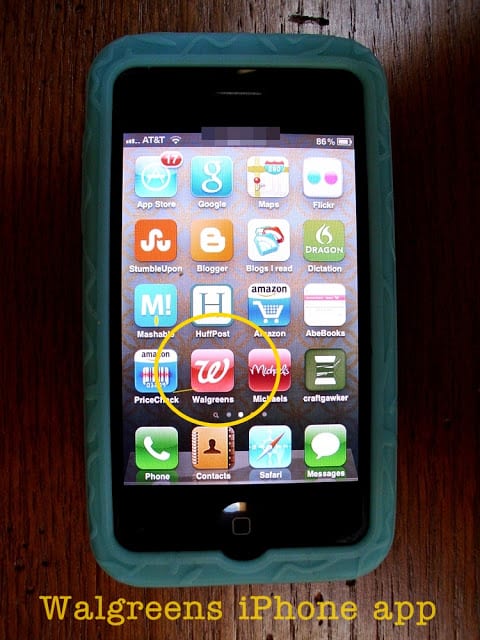 First step? Ignore the stray cat hair on the iPhone screen. Step two? Click on the Rewards icon:
Click on Join Now. If you sign up in the store, you can simply add your Balance Rewards card info to your existing account information using your iPhone.
Enter some basic info about yourself and choose a password. Simple stuff!
Voilá! I'm now a member of the Balance Rewards loyalty card program at Walgreens! Took about 3 minutes tops.
I clicked on the options at the bottom of the Balance Rewards screen. (See below.) Clicking on the bottom left (Card) will bring up your card that can be easily scanned right from your phone during checkout. Points so far? Zero! And the Activity tab keeps track of your purchases for you.
One of the first signs I saw when I entered the store was the Balance Rewards sign, which just happened to be at the end of the aisle I was looking for! How convenient to have all of the Halloween-themed merchandise in one area.
Halloween Peeps! Who knew? Not me!
Cap'n Crunch goes green! I would have loved this as a kid. Green milk? Definitely!
Halloween decorations? Check! Halloween candy? But of course!
I adored this giant Casper the Friendly Ghost smiling at us as we were leaving Walgreens! I dressed up as Casper when I was about 4-ish years young. I have a picture of me from back then somewhere. If I start looking for it now, I might find it around Valentine's Day to share with you.
To see more of my shopping trip to Walgreens,
click here
.
When I got home, I checked my Balance Rewards info to see if it was updated on my Walgreens app. I'm always interested in how fast these kinds of things actually work. All my info was already uploaded into my account. I spent under $25, receiving Walgreens Savings on some of my items with my Balance Rewards card.
I earned 1000 points in just this trip. I'm on my way to redeeming my first $5 reward, which is a nice extra to a successful Halloween shopping trip!
I bought these plastic Halloween Potion bottles at Walgreens. I kept them together near one end of my mantel. The skeleton heads light up with tiny LED lights, and each bottle has a glitter spider in it. Perfect, if you ask me!
Here's my not-so-fancy camera work trying to capture the bottles in the dark:
Now. Let's talk about these skull candle holders, also found at Walgreens. I love the two shades of glass, and I really love how heavy they are. This is thick glass. Thick. This is the kind of quality item that I'd expect to find in specialty decor stores for probably twice what I paid. Seriously. These candle holders were the score of the day!
How heavy are these? I just had to weigh them. (I'm a bit crazy like that.) Each skull weighs almost 2.5 pounds. I chose the pale teal and dark green shades of glass. Walgreens also had them in magenta and red.
I placed battery-operated, flickering tealights in each skull, and placed them on each side of my Trick or Treat sign, as you can see in the pictures above and below.
And here's a shot of the mantel. This shot is cropped to avoid having to show you the TV and the various other components that are definitely not part of the Halloween display. Yes, we're one of those homes that has the TV mounted above the fireplace. This makes decorating the mantel a bit difficult, as I have to stick with shorter items that still pack a punch.
I hope you enjoyed my little tour of how I completed my Halloween mantel. To get more info and details on Walgreens Balance Rewards loyalty card program, visit them on the web here, or on Facebook and Twitter.
With just a little over one week to go, I'm finally decorated for Halloween!
Disclosure: I am a member of the Collective Bias™ Social Fabric® Community.  This shop has been compensated as part of a social shopper insights study for

Collective Bias

™ and

Walgreens

. All ideas and opinions are my own.  #CBias #SocialFabric