I subscribe to a few home decor magazines that I look forward to receiving each month, like Better Homes and Gardens and Country Living. I eagerly await their arrival, knowing their pages will be filled with attractive layouts, tasty recipes, garden and home ideas, DIYs and more.
I've seen several new magazines start up over the past few years aiming to offer the same thing only in a digital format. I've given most a passing glance, as none grabbed my attention.
Until I came upon Celebrating Everyday Life with Jennifer Carroll. 

Gorgeous. Stunning. Inspiring.
Those are the three words that keep popping up when I describe this magazine to friends.
Jennifer Carroll wears many hats from event planner to designer, and trust me when I say she's creative! And the contributors to each issue of the magazine read like a who's who of my favorite DIY and lifestyle bloggers!
The best way to convey to you how gorgeous this magazine is, would be to show you some pages and layouts, so that's exactly what I'm going to do today! These images – all from the September/October 2013 issue – are only a fraction of the eye candy packed into the magazine.
What captured me first was the dazzling photography, yes, but it was also the eye-catching details within each photo too. Take this image below, for example, of a freshly baked pie. I love the mini bunting made from fabric scraps as well as the fabric-covered number 7. Aren't they pretty? This is from "A Pioneer Birthday" – a sweet party for a little girl.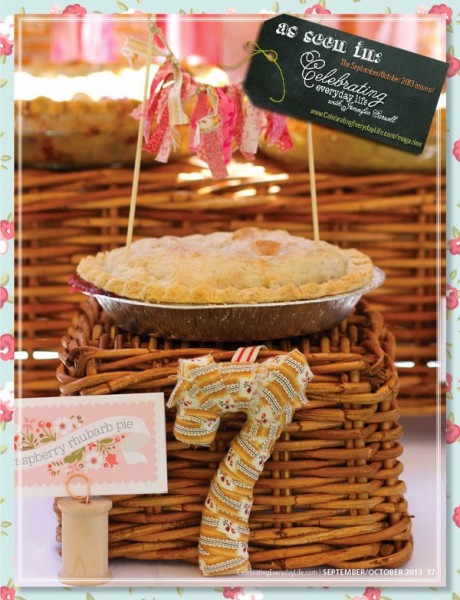 This next image is the title page of one of my favorite articles from the issue, as it focuses on a calm and serene color scheme for Fall which looks so refreshing, don't you agree? Those little white pumpkins resting atop white china plates are a simple yet lovely detail, but it's the perfectly imperfect dried hydtrangeas that stand out to me!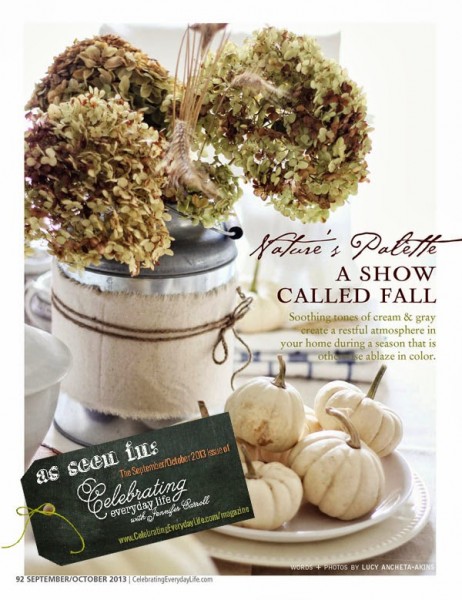 Each issue of Celebrating Everyday Life has several seasonal craft and DIY projects, and the Autumn-inspired ones are rustic and elegant at the same time!
There's charming gourd candles . . .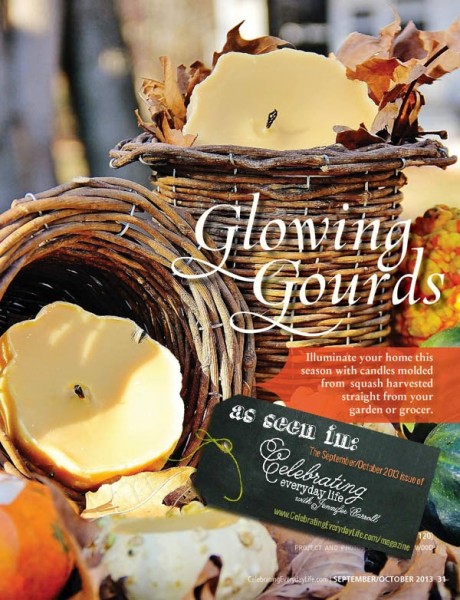 There's sumptuous velvet pumpkins . . .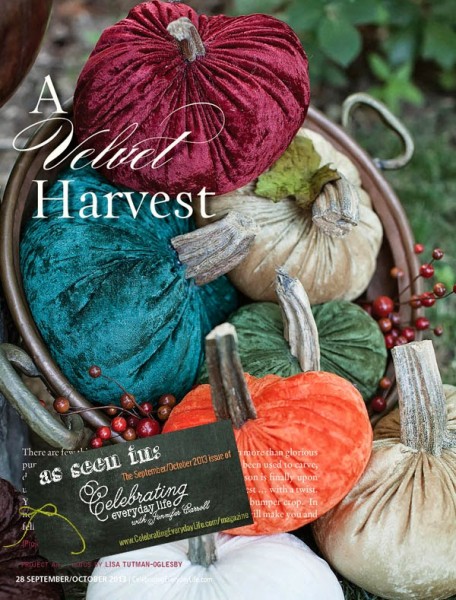 And there's tiny acorn treasures also dressed in velvet!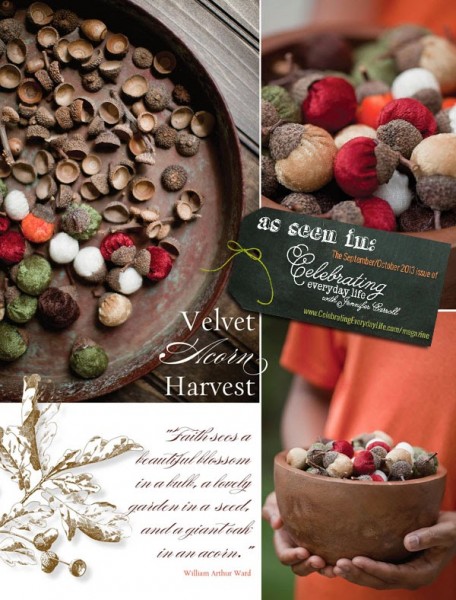 I love gardening, which to me is a year-round experience. I find as much beauty in the bare branches against snow in Winter as I do the colorful flower blooms of Summer.
Fall is my favorite season, so it's no surprise that "Falling Gardens" was my favorite article! The attractive plant in the layout below is a purple Smokebush, just one of the dazzling plant suggestions in this story that have been added to my never-ending Plants I Must Have list!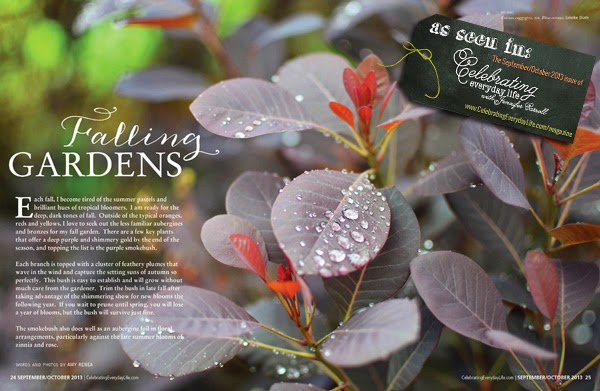 Two gardening trends that I adore are terrariums and fairy gardens. Celebrating Everyday Life combines the two with "tiny enchanted gardens" that are little works of art!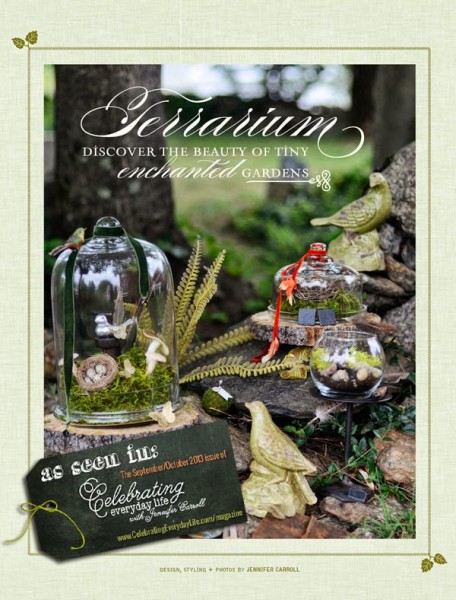 I spend a lot of time enjoying the outdoors in the Fall, especially when the air turns crisp and the temperature is cool. Wouldn't you enjoy sitting by this fireplace? What a focal point to a patio setting, and something that looks good both day and night whether it has a roaring fire going or not!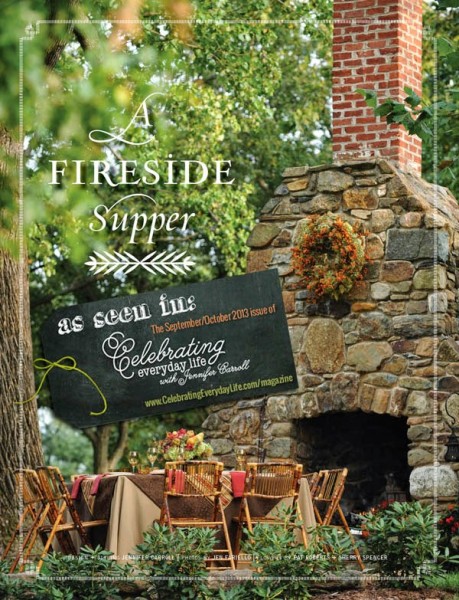 "A Fireside Supper" is a stunning article filled with ideas and inspiration for your own outdoor dinners.
All of these eye-catching images are just a snapshot (pun intended) of the Fall issue, which comes in at 134 pages total. And how many of those pages are ads? One. One page of ads. That's an amazing constrast with my long-time favorite magazines: One of my favorites has 196 pages in its current issue, but I can't even begin to count how many of those pages are actually ads. Amazing, right?
Want to see a few more pages? Click below for a quick video preview:
There are three ways you can read and experience Celebrating Everyday Life: digital subscriptions, digital single issues, or a luxurious print edition.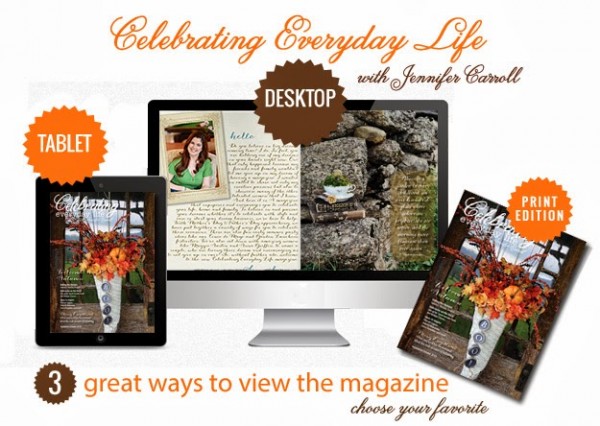 Why would I call the print edition luxurious? 

Because the print edition is much more than a regular magazine. Instead, the pages are printed on heavy-weight paper and bound together like a soft cover book, one that you'll want to keep on your coffee table to share with your guests.

Learn more and get inspired . . . 
I hope you enjoy this gorgeous, stunning and inspiring magazine as much as I do!