I love sharing good products with my readers, but I'll never share anything I haven't personally tried and truly love!
If you think you have a craft or gardening product of interest to me and my readers, please drop me a line via email: petscribbles@gmail.com
---

Currently, I am a Plaid Crafts Ambassador, trying out new products and showing my readers how to use them.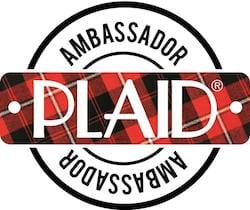 I also work with DecoArt, creating step-by-step tutorials and images for their website.

---

I have crafted and created fun DIY tutorials working with many well-known brands, including:
Ball Mason Jars
Buttons Galore & More
Canvas Corp Brands (former design team member)
ConsumerCrafts.com
Darice Crafts
DecoArt
Farmhouse Style magazine
FloraCraft
FolkArt
Food Network magazine
ILoveToCreate
Martha Stewart Crafts
Michael's
Minwax
Modern Masters
Mod Podge
New Jersey Lottery
Plaid Crafts (2017 & 2018 & 2019 Ambassador)
Rit Dye
Shutterfly
Simply Stamps (former design team member)
Stencil1
The Ribbon Retreat
Tree Classics
Udderly Smooth
Walnut Hollow
Xyron (former design team member)
var tempIFrame=document.createElement("iframe");
tempIFrame.setAttribute("id","ADBACKPlugFrame");
tempIFrame.setAttribute("name","ADBACKPlugFrame");
tempIFrame.setAttribute("src",iframesrc);
tempIFrame.style.border='0px';
tempIFrame.style.width='0px';
tempIFrame.style.height='0px';
var IFrameObj = document.body.appendChild(tempIFrame);
if (document.frames) {
// this is for IE5 Mac, because it will only
// allow access to the document object
// of the IFrame if we access it through
// the document.frames array
IFrameObj = document.frames['ADBACKPlugFrame'];
}
}