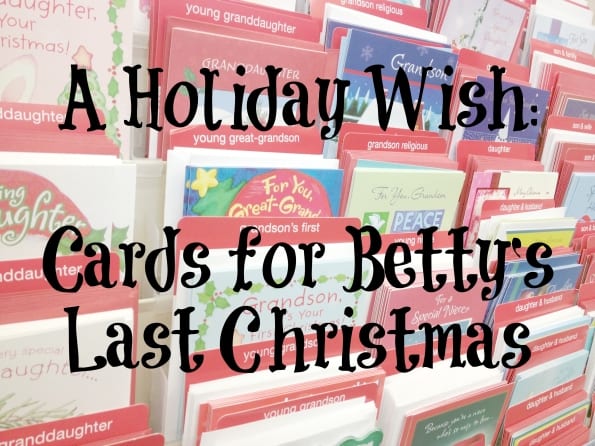 Today I'm sharing a post with you from my crafty friend Rhonda Greene, who blogs at Mrs. Greene and also is the editor of Dollar Store Crafts.
Rhonda and her family just found out that her beloved grandmother has stage 4 cancer and is not expected to live much longer. Needless to say, Rhonda's family is devastated, especially her grandfather who has enjoyed over 60+ wonderful years with Rhonda's grandmother. And with this news coming at the holidays, it just makes everything a bit harder to swallow.
But Rhonda has come up with a wonderful idea to bring some cheer to her grandparents – and her entire family – this Christmas. Rhonda is asking all her crafty friends – and strangers alike – to send her grandparents a Christmas card.
This is such a simple request, and as I make greeting cards for a living, you know that I'm making one to send to them. I'm also going to ask my fellow team members on the Etsy Greetings Team for help. Each of us (on that team) makes handmade cards, so I'm hopeful for a good response.
Rhonda has been so blessed being able to spend time with her grandparents from the time she was a little girl up through adulthood. I never knew either of my grandfathers, but I'm told each of them knew me when I was just a baby. Both of my grandmothers passed away when I was in high school and then in college. Every so often I think about how neat it would be to spend time with them now, as an adult. My parents share such great stories about their own parents – and those stories are appreciated more now that I'm all grown up an adult. (I'll always be a kid at heart!)
So. Click here to read Rhonda's blog post about her request for Christmas cards. That's where you can find all the details – such as the mailing address – too.
And please join me in sending Rhonda's grandparents a Christmas card: a simple gesture that will mean so much.
Isn't that what the holidays are all about?
~Laura