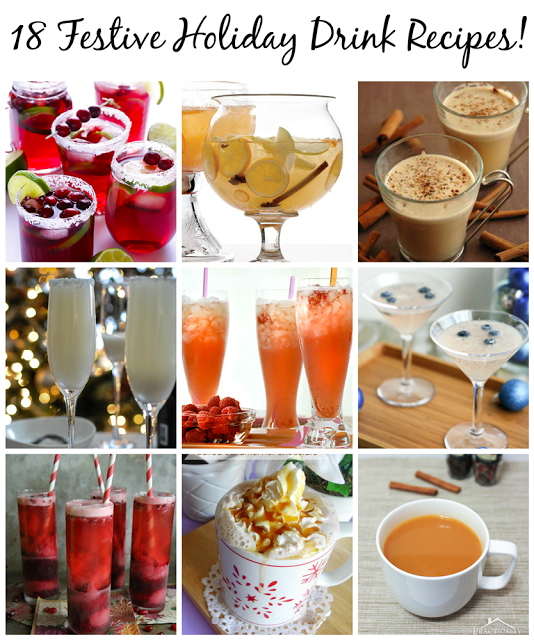 An easy way to jazz up a holiday party – or even a simple gathering of friends – is to offer a festive holiday drink. I've started a Pinterest board to collect my favorite recipes — both alcoholic and non-alcoholic — and today I'm sharing my favorites with you!
These are easy to make ahead of time, so you can enjoy spending time with your guests instead of playing bartender!
Cranberry Margaritas
Homemade Wassail
Cranberry Cider (non alcoholic)
Mulled White Wine Sangria
Blackberry Fizz Holiday Drink (non alcoholic)
Coconut Vanilla Bellinis
Cinnamon Brown Sugar Recipe (for the rims of seasonal beer glasses!)
Orange Mulled Wine
Hot Spiced Cashew Coconut Milk 
Raspberry Pomegranate Champagne Cocktail
Skinny Eggnog (non alcoholic)
Salted Caramel Hot Chocolate (non alcoholic)
Frost Bite Mocktail (non alcoholic)
Hot Buttered Rum Drink
Mulled Red Wine Sangria
Godiva Chocolate Martini
Raspberry Beer Cocktail
Cranberry Sparkler Mocktail (non alcoholic)
Want to see more ideas? Follow my Festive Drink Recipes Pinterest board!
Do you have a favorite drink recipe for the holidays? Let me know in the comments!
~Laura