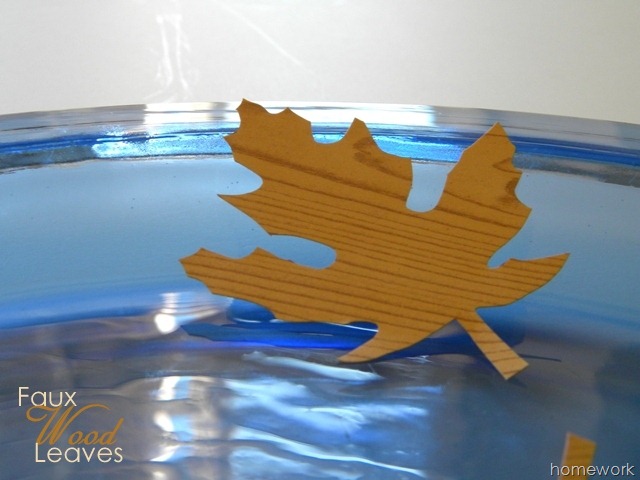 Today my friend Carolyn is filling in for me, while I get ready for our Oktoberfest party coming up this weekend! 
Carolyn is one of my favorite creative bloggers, as I end up oohing and aahing over each of her projects like this
 awesome Fall craft that looks so much like wood, but isn't! Read on . . . 
Hello The Shed readers. I'm Carolyn from
homework
. Laura is super busy planning for a big Oktoberfest event and if I lived closer I know I'd be crashing her party. The second best thing to hanging out at her Oktoberfest is hanging out here at The Shed.
Today I'm sharing a fun faux leaf project that's perfect as we head into the Fall season. I'm loving Fall right now. Every time I open a magazine, I see dozens of great ideas and my project list is growing. This project was quick and easy so it made it to the top of the list and was quickly checked off.
I saw this idea in
Better Homes & Gardens
and tore out the page. It sat in my tote bag for awhile and got a little wrinkled but at least it made it home. BH&G used wood veneer to make these pretty fall leaves. I thought of a way to make faux wood leaves without using veneer.
I used wood grain contact paper. I cut small pieces of cardstock and stuck the contact paper onto both sides. Using leaf templates, I drew the outline and cut them out. If you have a die cutting machine, you could whip up lots of these since it's much faster than hand cutting each one.
The color variations of the leaves are based on the color of cardstock in between the two pieces of contact paper. I used red, green and brown cardstock.
Here you can see the red cardstock along the edge of the leaf.
You can write things that you are thankful for on the leaves using a Sharpie or metallic pen. I happened to have some
Mod Podge rub off lettering
with phrases that were perfect for this project.
I'm thankful for so many things including family and friends.
And of course, autumn leaves.
Thank you so much for having me over. Stop by and visit me any time at
homework
.
Aren't these leaves awesome? Love, love, love and I can imagine all sorts of fun ways to use them: as placecards for your Thanksgiving table, as a garland (like in the BH&G photo) or as hanging ornaments on some decorative branches! Go and visit Carolyn's blog

homework

and you'll see what I mean about oohing and aahing over her creativity! 

Thanks Carolyn!

As for our Oktoberfest… At this point, we're in the beginning of a Nor'Easter that will be lingering for a few days. And it will probably rain on our backup rain date!  Fun times, fun times! Hah!
  ~Laura